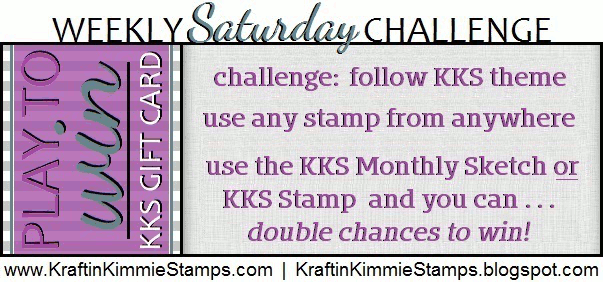 Hello Krafty Friends.
it's time for the latest challenge at
Kraftin' Kimmie Stamps
. Krafty Girl STEPHANIE is our fab hostess and her challenge is called BABY SHOWER.
Grab your stamps (all are welcome) and create a NEW card, layout or altered item to match this week's theme. You can share it with us on Krafty Friends Facebook in our group (
here
) or link up over at the Kraftin' Kimmie blog. You have all week to play along and there is a chance to WIN $10 gift card to the KKS
shop
. If you do use a Kraftin' Kimmie Stamp on your project, you will double your chance to win.
Since we starting a new month of challenges, that also means a new sketch. The sketch is a option and can be used all month. Not only is it great inspiration, it also gives you an extra chance to win
You have until May 8th at 11:55 EST to play along with the week's challenge.
For my card this week, I inked up the adorable panda from Wild About You. I managed to keep the card CAS using paper from Echo Park Bundle of Joy.
SALE
Head over to the
Kraftin' Kimmie Stamps shop
to see all of the AMAZING deals. Kimmie is celebrating NATIONAL SCRAPBOOKING DAY by putting over 50 stamps sets on sale from 25%-50% off. It's only while supplies last, so don't waste any time!
SPRING SELFIE CROP
On May 9th, Kimmie and the Krafty girls are celebrating with a spring crop. Some of us will be enjoying a crop at Kraftin' Kimmie HQ and those that can't be with us are welcome to join in with our online crop. You can check out the Facebook event page (
here
).
Have a super and crafty day!