This is my submission for the Two Scrapbooking Friends September Sketch Challenge. I haven't done a lot of double page layout, so this was a challenge. The layout Shelby created was fabulous and once I had my pictures selected it was pretty easy. Here is Shelby's sketch.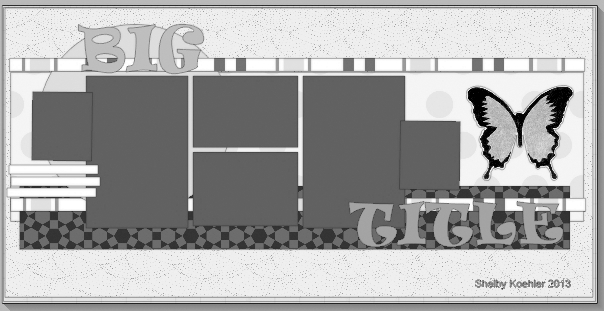 It did take a while for me to select the right photos. I just started scrapbooking in the Spring this year. I printed a large number of photos and for me what seems to work best is going through all my pictures and finding the ones that inspire me. When I have a sketch, there a bit more planning to select the best photos for the layout or the best way to adapt the layout to suit my photos.
I stuck close to the sketch, because it worked so well for my pictures. I hand stitched along the top scallop and twisted some additional floss along the bottom. I wasn't sure the best way to glue it down. I just used my Zig 2-way glue pen (fine tip) and traced out the pattern and placed the floss on top. It was a bit of work, but turned out okay.
I prefer (when possible) to include a spot for some hidden journaling. For this layout I created a pocket behind the house tag.
Supplies:
Paper: Little Yellow Bicycle - Acorn Hollow, Basic Grey - Hipster, Simple Stories - Harvest Lane and Kraft Core Cardstock.
Other, Echo Park Reflections Chipboard, leaf stick pins,